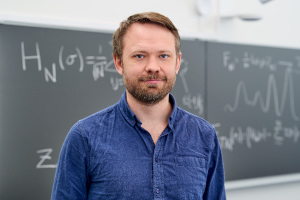 David Belius
I am Assistant Professor at the Faculty of Mathematics and Computer Science of UniDistance Suisse | FernUni Schweiz.
I am a mathematician and probabilist. My research interests include statistical physics, spin glasses and machine learning theory.
Contact details
E-mail: david.belius@unidistance.ch | david.belius@cantab.net

Group
Vladimir Fomichov (Post-Doc)
Francesco Concetti (Post-Doc)

Former members
Leon Fröber (PhD student)
Shuta Nakajima (Post-doc; now senior lecturer at Meiji University)
Marius Schmidt (Post-Doc; now Post-Doc at Frankfurt University)

Papers
Spin glass workshop 2022
I co-organized a Workshop on Spin Glasses in Les Diablerets, Switzerland in September 2022 Febuary 2022. Videos of some lectures will be made avaible at https://swissmaprs.ch/videos/.
Previous affiliations